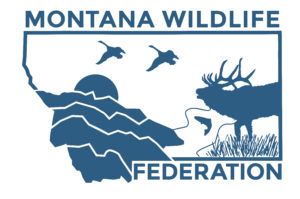 40 W Lawrence
Helena, MT 59601
 PO Box 1175
Helena, MT 59624
(406)417-9909
mwf@mtwf.org
www.montanawildlife.com
Montana Wildlife Federation protects Montana's fish and wildlife, our wild lands and waters, and fights for public access for hunting, fishing, and other outdoor recreation.
Statement:
The Montana Wildlife Federation gives a voice to hunters, anglers, and other conservationists in order to safeguard our fish and wildlife, land and water, and public access. MWF works to support the rights of everyone who hunts, fishes, or just enjoys the opportunity to see and experience wildlife in our state.
How we help:
Every Montanan can recall a unique experience in the outdoors that you can't get anywhere but in the Last, Best Place: stalking a majestic bull elk in dark timber, catching a giant wild trout on a dry fly, or seeing a river otter frolic in a mountain stream.
Big game hunters in Montana enjoy the longest hunting season in the West. Montana has better access to rivers for fishing and rafting than anywhere else in the country. Wildlife that have disappeared from other parts of the Rocky Mountains are still abundant here.
These great outdoor resources are no accident. For 80 years, the Montana Wildlife Federation has fought to protect Montana's fish and wildlife, our wild lands and clean waters, and the public's right to enjoy the outdoors. If you have ever enjoyed Montana's wildlife and outdoor recreational opportunities, you should support the Montana Wildlife Federation.