Montana Shares offers donors planned giving in partnership with Montana Community Foundation (MCF). If you are interested in including Montana Shares in your will or establishing an annuity or trust to benefit Montana Shares, please contact us. If you prefer to remain anonymous, please contact MCF directly and they will help you plan your giving. Either way, to learn more about your choices, please download the condensed, easy-to-read MCF Giving Options.
Your planned gift can be funded in many ways. These include outright gifts of cash, stocks, bonds, real estate, gas and oil leases, or other assets. Bequest by will lets you designate a gift or portion of your estate to Montana Shares. A Charitable Gift Annuity lets you make a gift off cash or property now, get immediate tax benefits and ensure that you or loved ones receive fixed income payments for life. In addition, gifts to qualified endowments qualify for the Montana Endowment Tax Credit which is equal to 40% of the federal charitable deduction value of your gift up to $10,000! If you have a giving spirit and would like to learn more about how planned giving can help you and Montana Shares, please contact Bill at Montana Shares, 406-442-2218 or Montana Community Foundation by phone at 443-8313, email at info@mtcr.org.
ARTICLE: How We WILL Continue to Give
by Martha Vogt and Jim Greene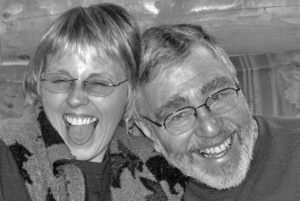 For many years writing a will was on our "to do" list, and trip to Ireland finally got that off our list. As part of the process we both sat down to evaluate what charitable organizations we wanted to include in our wills. One of the first organizations that came to mind was Montana Shares. The appealing thing about giving to Montana Shares is that it will benefit a lot of organizations at one time. You may choose to remember specific organizations through Montana Shares, and even if they are not a member at the time of your demise, Shares will honor your choice and forward that money to your chosen organization. If that organization has ceased to exist, they will give the money to an organization with similar goals as the one you chose. Or you can choose to distribute your gift among all Montana Shares member groups. We chose to make our gift specifically to Montana Shares for their administrative use, as we know non-profits always need a special piece of office equipment that would make their tasks easier, which in turn benefits all the groups as a whole. Since Montana Shares covers such a wide range of diverse groups, we feel our gift reflects our entire spectrum of valued charitable organizations. Please consider including Montana Shares in your will planning process.