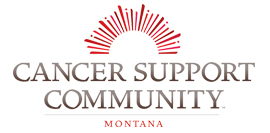 102 So. 11th Ave
Bozeman, MT 59715
(406)582-1600
info@cancersupportmontana.org
www.cancersupportmontana.org
Cancer Support Community Montana makes sure No One Faces Cancer Alone. We ensure that all people impacted by cancer are empowered by knowledge, strengthened by action and sustained by community.
Statement:
Hundreds of Montanan's are served annually through the programs and services CSCMT provides, all free-of-charge to our participants. All programs offered by CSCMT are research-based and provide tools and connection to live well with, through, and beyond cancer. We serve anyone impacted by cancer – survivors, family, caregivers, friends, if you have been impacted, we are here for you.
How we help:
"When I first found out that my mom had cancer, I didn't really know what to think because I didn't know much about it. I didn't want to go to school because I didn't know what other kids would think and what questions they would ask. And then when I found out about Cancer Support Community, I thought it would just be a thing where we sit in a circle and talk about our feelings. And it was that, but a lot more. At Kid Support, we did art projects and games along with talking about cancer and how to deal with a family member having it.
We also went to family camp. It was a great thing to do because I got to meet other kids that had a parent with cancer. There were also lots of fun things to do at camp like ziplining, playing in the rec room, and participating in the talent show.
So thank you Cancer Support Community for supporting us kids through our really tough time." -1l Year Old Participant
"To sit next to your wife when she receives the news…. cancer. A visit to the doctor was supposed to be routine, normal, just something you do…Until today. But not this time. Despair, confusion, anger, and fear. The feeling of helplessness. What can I do to help her? Am I going to lose her? What now?  What do I say to ease her fear? help? No one is ever prepared for cancer. I didn't know what I didn't even know. It wasn't long after that I learned of the Cancer Support Community and the services they provide to those with cancer…and their families. They opened their doors, their experience and guidance, and hearts to us. They helped us with ideas to talk to our kids about cancer. They gave me help and guidance as a caregiver, and just someone to talk to. To listen. I met other families going through what we were going through. Life became less scary." Husband of a Cancer Thriver