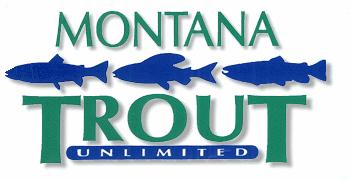 312 N Higgins, Ste 200
Missoula, MT  59802
(406)543-0054
info@montanatu.org
www.montanatu.org
Montana Trout Unlimited was founded in 1964, we are a statewide grassroots organization dedicated to conserving, protecting and restoring Montana's cold water fisheries and their watersheds.
Statement:
Montana Trout Unlimited conserves and protects Montana's coldwater fisheries. Abundant healthy trout populations produce positive environmental and economic benefits, and impact entire ecosystems, from grizzly bears to eagles. Angling also contributes nearly $300 billion to the economy in Montana every year. Through education, conservation and advocacy, MTU is protecting our treasured rivers and streams for the next generation of grizzly bears and anglers.
How we help:
Imagine you floating one of Montana's iconic rivers – fishing, or reading, or just enjoying the scenery, when you step into the middle of the stream to cast… and are arrested for trespassing. That's what laws in other western states mandate. In Montana, we have the best in the nation stream access laws and all have a right to access our rivers and streams. Montana Trout Unlimited has led the fight for stream access for all Montanans since 1984. Nearly every legislative session these laws are challenged, and MTU works tirelessly to affirm the rights of recreationists to enjoy our treasured rivers.