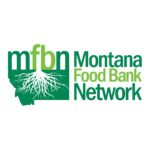 5625 Expressway
Missoula, MT 59808
(406)721-3825 or 1-800-809-4752
info@MFBN.org
www.MFBN.org
Our mission is to end hunger in Montana through food acquisition and distribution, education and advocacy. MFBN has been feeding Montana since 1983.
Statement:
Montana Food Bank Network (MFBN) is Montana's only statewide food bank and member of Feeding America. MFBN distributes food to over 340 partners that include community food banks, pantries, senior centers, shelters and schools to end hunger in Montana. MFBN's hunger relief programs include Backpack, Mail-a-Meal, Hunters Against Hunger and Retail Food Rescue. MFBN advocates for long-term policy solutions to strengthen public nutrition programs and address the root causes of hunger.
How we help:
IMPACT
a. With every $1 donation, you are helping MFBN to provide at least 5 meals. How is this even possible?
b. Through partnerships with local and national food manufacturers, agriculturists and other food manufacturers we are able to secure large amounts of food through generous donations, grants or wholesale. Then, through a team of volunteers, we are able to break down the large-scale food into manageable family size portions so our partner agencies and other programs are then able to easily store and distribute these to those individuals in our state that are struggling to make ends meet.
SUPPORT
c. Community support is vital to make our vision of a hunger-free Montana possible. You are here, you obviously have a passion to be a part of getting emergency food to our neighbors in Montana. We need you to get involved in a meaningful way. Whether that way is volunteering, donating or starting a food site in your neighborhood, your purpose defines your meaning. There is no time better than now to be a part of the movement to end hunger in Montana.