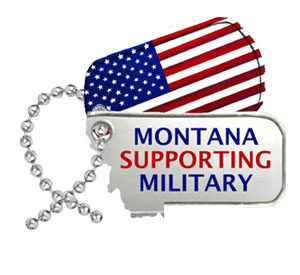 PO Box 4964
Helena, MT  59604
(406)431-7699
mtsmilitary@gmail.com
mtsupportingmilitary.org
Montana Supporting Military boosts the morale of deployed troops through care packages, clothing, food, and other needs.  Their families back home are also supported in various ways.
Statement:
Many of our deployed troops receive few, if any, care packages. That is devastating to their morale. Other troops do not have access to needed supplies. MT Supporting Military fills that need with personalized care packages and cards of support. We receive care package items and cards from caring individuals and groups across Montana. We also provide guidance and support for families of deployed troops.
How we help:

Following are messages from troops in four locations that received our care packages. Receiving a touch of home, and much needed items is a huge morale booster for deployed troops. Knowing that people back home value their service and sacrifices is so vital to our troops.
Happy new years! Today we got your care package and it couldn't have come at a better time. We are all thankful for your generosity. Big morale boost. Thanks!
I did get the box of Christmas Decorations!!! The warehouse is looking very festive because of it. The A-M-A-Z-I-N-G treats and stocks were beyond generous. The majority of my flight have been here for almost 6-months now. They've never seen such kind felt and generous gesture during their deployment or even prior deployments in some cases. I'd be lying if I said I wasn't a little emotional opening up all the packages & seeing the smiles on everyone's faces. I can't even begin to express my thanks and gratitude for what you and your organization has done for me and my troops this Christmas Season. I will say, from the bottom of my heart, THANK YOU, THANK YOU, THANK YOU!
Our office received a really nice care package full of decorations and holiday cards a few days ago. We already added Santa to our office door from that box. The gifts reached me on a really rough day and seeing everything brightened things up!
Wow what a great surprise and perfect timing for the 4th of July! We received the box full of USA gifts! I don't know if you will ever understand how much that meant to all of us especially the amazing cards from home! When I went to each tent and brought them their stuff every single one of them had a huge smile from ear to ear! 🙂 Thank you, thank you, thank you!!!