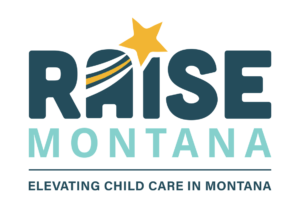 PO Box 808
Lolo, MT 59847
(406)422-9915
info@mtchildcare.org
www.RaiseMT.org
Provides statewide leadership shaping collaborations and strengthening child care resource and referral agencies; building diverse, professional, quality early childhood systems accessible to all Montana families.
Statement:
Raise Montana is actively engaged in statewide advocacy efforts focused on early childhood education and supportive resources for Montana's children and families. Raise Montana offers statewide training for early care and education professionals in an effort to build a quality early care and education system that is accessible to all Montana families.
How we help:
Raise Montana uses our contributions from Montana Shares to support our statewide advocacy and lobbying efforts on early childhood issues. This past year we spent a significant amount of time working with our partners through Montana Advocates for Children. With guidance from our lobbyist, we created a legislative agenda focusing on high quality early childhood learning experiences for all children. This includes preschool, child care, and quality infant toddler care.