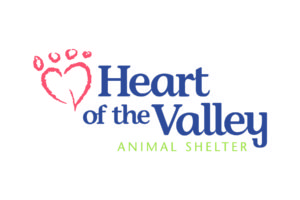 1549 E. Cameron Bridge Road
Bozeman, MT 59718
PO Box 11390
Bozeman, MT 59719
(406)388-9399
frontdesk@heartofthevalleyshelter.org
www.heartofthevalleyshelter.org
Heart of the Valley Animal Shelter cares for the lost and surrendered companion animals of Southwestern Montana and offers adoption, spay/neuter, humane education, outreach, and training programs at its open-admission shelter.
Statement:
Heart of the Valley Animal Shelter (HOV) provides a service to over 3,000 animals a year through all HOV programs (including SNAP Clinic). In addition, HOV offers a host of programs and services to the community to help connect people and pets. Special adoption programs include fee waived adoptions for military veterans and seniors through the Pets and Vets and Companion Cats for Senior People programs.
HOV offers training courses for puppies and adult dogs, as well as one-on-one consultations on behavioral issues. In an effort to help control the feral cat population, HOV's Spay and Neuter Assistance Program (SNAP) offers free and reduced fee surgeries for feral and semi-feral cats. HOV's Humane Education Program provides no cost presentations to the community, focusing on the humane treatment of and positive interaction with animals. The Pet Pals Summer Camp offers children the opportunity to learn about and experience the special bond between humans and animals.
How we help:
Slim was emaciated, thirsty and very fearful when he was found wandering the side of the highway by a good Samaritan who picked him up and made the hour long drive to bring him to HOV. He required fluids right away, had a healing wound on his head and was about half the weight he should have been for a dog his size. It was obvious he had a long road ahead to recovery, so we called on a long-time HOV foster family to give him proper care and socialize him in a home environment while he put on weight. Although still nervous of people, his foster family soon discovered Slim loves other dogs and would find him crawling into bed with their own pups. These new canine pals continued to help him come out of his shell and soon enough he had put on 11 pounds and was ready for adoption. He was adopted in November by a wonderful family and even has a canine big sister to play with and keep him company. We are so happy for Slim and his new life!