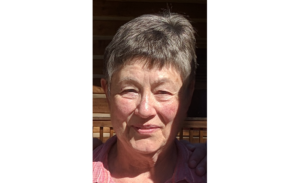 Our long-time board member and dear friend, Jan Donaldson passed away on March 22, 2019. In lieu of flowers, she asked for donation to be made to Montana Shares or ACLU of Montana. Here are ways you can donate to Montana Shares. 
There are four ways to donate if you wish:
Mail – Montana Shares, PO Box 883, Helena, MT 59624
Via PayPal with the donate button below.
If you wish to find out more about her wonderful life, here is her obituary.
Jan Donaldson, of Helena, MT, died on March 22, 2019, following a short illness. She was born in Alliance, OH, on November 10, 1943, the eldest child of Dorothy (Streit) and Alan W. Donaldson. Jan was a thoughtful, fun-loving soul, fiercely devoted to justice and decency.
After earning a degree in nursing from Vanderbilt University, Jan (and her first spouse, Frank Forbes) raised son Jeff and daughter Kim in Fort Collins, CO. In the early 1980s, Jan worked as a nurse in the Larimer County (CO) Handicapped Children's Program. It was here, during a neurology clinic staffed by University of Colorado School of Medicine faculty, that Jan met pediatric neurologist Mary Anne Guggenheim, her future life partner.
In August 1983, Jan and Mary Anne founded a comprehensive clinic in Helena (MT) serving children with neurologic problems in Montana and neighboring states. The practice grew to include experts in children's physical, speech, language, and complex learning problems, and provided week-long clinics in three other Montana locations for families who could not always travel to Helena.
Jan organized the clinic in a remarkable way, making thousands of phone calls for lab work, medication schedules, or to check on a child's condition; facilitating complex testing sessions to streamline medical appointments; and memorizing bus schedules for Billings, Great Falls and Kalispell to fetch test results for referring physicians. Her work gave the practice a unique warmth and cohesion.The best way to appreciate her impact was to see the maps of Montana and northern Wyoming bristling with pushpins identifying the homes of the children: there was hardly a town, even the smallest, not represented. Numerous families over the years who had a child with a difficult neurologic condition grew as familiar as friends.
After retiring from the medical practice, Jan 'n Mag (as they were often called) camped and explored many mountains and streams, enjoying the birds and critters of Montana and beyond. Jan still kept a hand in medicine as the first Executive Director of the Montana Chapter of the Academy of Pediatrics. She also helped initiate a pediatric nurses' group with the national Child Neurology Society. Closer to home, she served on the board of Montana Shares.
In 2010, Jan and Mary Anne were named plaintiffs (along with 5 other couples) in Donaldson Guggenheim v. State of Montana, an ACLU lawsuit that sought the same legal protections for same-sex couples that opposite-sex couples gained through marriage. With the outcome of the lawsuit still uncertain, Jan and Mary Anne wed legally in California on November 12, 2014; one week later, a federal court ruled Montana's same-sex marriage ban unconstitutional.
Jan was preceded in death by her parents and a granddaughter, Elise. She is survived by her wife, Mary Anne Guggenheim, and four children and their spouses/partners: Jeff Donaldson-Forbes & Greg Seagler and Kim Forbes & Lisa Nordstrom, of Portland, OR; Sarah (Guggenheim) & Ben Alexander (daughters Anna & Reeve) and Dan & Marilyn (Bolles) Guggenheim (sons Felix & Leo), of Bozeman, MT. Jan is also survived by sister Becky (Donaldson) & John Holt of Ball Ground, GA, and brother Wes (& Lorraine) Donaldson of Bush, LA, and by her "informally adopted" grandchildren, Sarahbeth Sanders of New York City, Danny J. Norris of Boise, Idaho, and Aden Norris of Bozeman.
Jan's family thanks longtime friend Mary Runkel, R.N.; the nurses and staff at St. Peter's cancer center, oncology floor and Hospice; supportive friends and colleagues who traveled from afar; and the loving communities who carry on Jan's legacy of service to the poor and underserved.
Family and friends will hold a celebration of Jan's life at a later date. In lieu of flowers, Jan requested that donations be made to Montana Shares and to the ACLU of Montana.